Recently I had a pleasure to visit GDCC's Rotterdam office. Seeing one of their biggest CATI centers live and in action was an impressive experience. The afternoon lead to inspiring conversation with Sanne Krom, one of the founders and Managing Partner, about the realities of CATI operations on a global scale. Read more for the first part of the interview.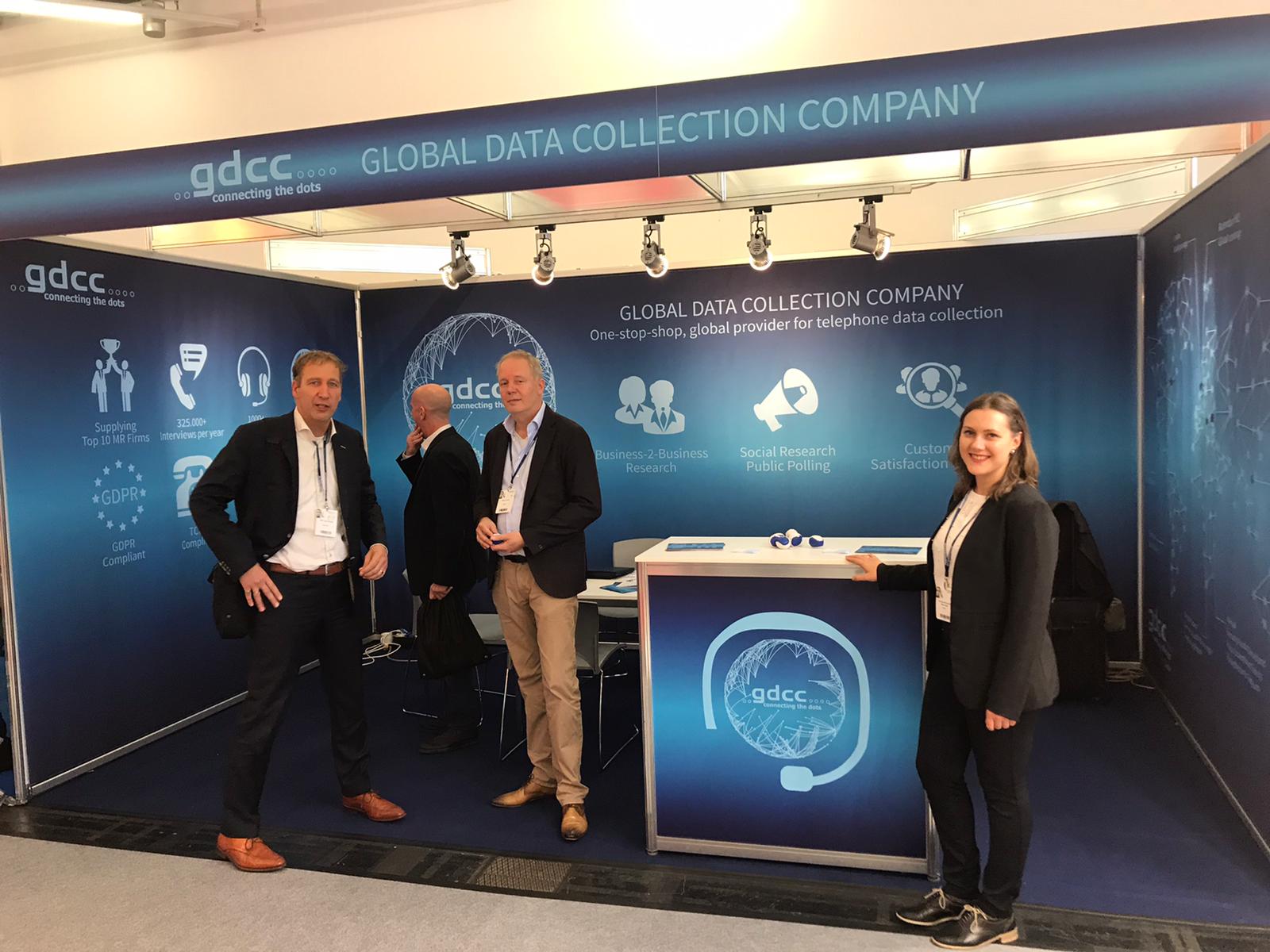 GDCC stand at Research & Results, Munich 2019, from left: Otto van Linden (Nebu), Yaron Brenman (Savanta), Sanne Krom (GDCC), Suzana Arsovska-Mitrevska (GDCC), fot. Eric van Velzen (Nebu)
Malgorzata Mleczko: Thank you for having me. You have launched GDCC on the US market. Why did you decide to acquire existing call centers?
Sanne: If you look at the history of GDCC in light of the development in the global CATI space, we always branded ourselves as being able to cover the EMEA region, so Europe, Middle East and Africa. This was primarily driven by the fact that we had a call center in Rotterdam followed by a facility in Istanbul. In those two locations, you can really well recruit to the European languages. You can, of course, recruit Brazilian Portuguese, or Cantonese for Hong Kong or call from Europe into Australia, but it makes you very expensive because if we work at nights in Europe, you have to pay your interviewers 200 percent.
We started with a focus on the EMEA region but at the end of the day, we wanted to have what is called a global footprint. So, when the opportunity came by to take over two existing call centers in the US, including the existing clients which means you get a running start, we grabbed that.
Malgorzata: Did you also see a demand for US coverage within your existing client base?
Sanne: There was clearly a demand in the sense that the existing clients often have global projects which include the Americas. But also, for example, for a lot of projects we now sell out of headquarters in Rotterdam, we can tell clients, "Look, I know you always thought of us as your EMEA region partner for this global project, but we now have global coverage."
Malgorzata: There is some upselling in that.
Sanne: Of course, and the same goes for our call center in Hong Kong.
Malgorzata: That is a relatively new one as well right? When did you start there?
Sanne: In Hong Kong, we started three years ago. It is relatively small because rent in Hong Kong is expensive. We currently have 18 seats and we have several homeworkers in place. They all work directly on our Netherlands-based CATI platform which works really well.
Malgorzata: You mentioned that GDCC has nine call centers now, covering the globe. I'm wondering what your view is on what the differences are in data collection and market research, in the US, Europe, and Asia?
Sanne: I think if you look at data collection as a method, you always will need data for primary research and you collect it via a variety of methods: CATI, postal, online, face to face. Of course online has grown a lot over the last 20 years and is now the predominant method of data collection, partly for cost reasons, partly for speed. What you also see is that the CATI market is declining, the global volumes are shrinking but it also means that if I am a mid-size local firm, and I have my own call center, that I don't have enough work for it to be profitable. I might then decide to close it down or sell it for a nominal amount to a company that has a good reputation and has all the processes in place to deliver high quality work. We call it the last man standing approach. Result is that in a shrinking market, we're still growing, which means the strategy is working.
Malgorzata: The market is shrinking, but at the same time, it increases in its prominence, right?
Sanne: I think that is debatable. What you see if you look at CATI as a method that either the more difficult types of research remain dominant because those respondents, those C-level people, you cannot find in online panels. Or it is methodology driven: if you look at social research, for companies like Washington firms or the European Commission, they do not have faith yet that an online panel provides enough representativeness on a country level to make policy or to carry out a good survey. Those interviews or those projects still are either being done face to face, or via CATI and I don't see this changing anytime soon.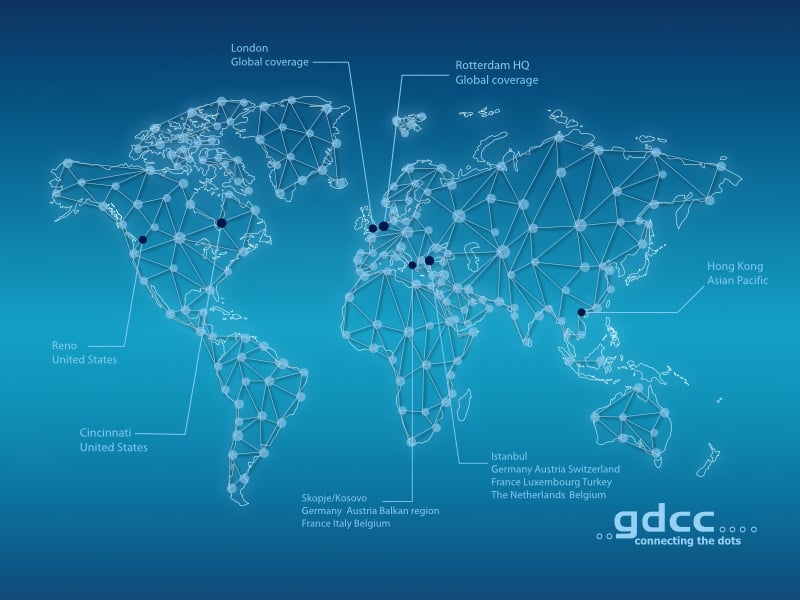 Malgorzata: How many CATI seats do you have altogether?
Sanne: About 600.
Malgorzata: Very impressive! How do you manage that? On an operational level.
Sanne: You manage it by having an excellent central system in place and a solid set of processes and protocols, both for the CATI platform and for planning, for Quality Control and also for project management. For CATI and planning is Nebu. For project management and CRM we use Zoho. All cloud-based, so you can execute easily from wherever you are in the world. You have to combine that , on a local level, with a very good site manager. A site manager is somebody who, for example, in Hong Kong, manages our Hong Kong call center using the global infrastructure and processes to make sure the work is done in line with our global standards.
Malgorzata: About the US market, what kind of challenges have you encountered entering that market?
Sanne: That's an interesting one. You have of courseGDPR, which is mostly European-based, European-focused but it also applies to US companies who deal with European respondents. In addition, if I look at the work which we do inside of the US, you need a local install of your data collection platform. So, although our Nebu system, for example, is in the cloud, the system they work on in the US is hosted in the US itself.
Another big difference is you need to be TCPA compliant, which is a US law on how to dial cell phone numbers. If it's a cell phone you're dialing, you have to dial it by hand via a system that is in no way connected to a dialer. Effectively, that means that you need two completely separate systems with separate telephony trunks going out. So, they should be in no way connected.
Malgorzata: So, you use both in the US, but for mobile, you have a separate?
Sanne: Yes , and this is challenging because it starts with dialing by hand, manually, which is inefficient. Secondly, it is costly because you have to buy two separate systems and you have to combine it with much lower productivity if you dial the numbers by hand.
Malgorzata: What about human mistakes? Are there many?
Sanne: No, not many. When we started in the US, the system they were using, used the old-fashioned physical phones on the desk, where they had a separate system for manual dialing, which then went out of the door via ISDN lines. ISDN is now being phased-out globally and it's all moving into SIP-telephony. That has advantages and disadvantages. The advantage is that even with manual dialing you can put a layer under it, which checks if the number is correct. So, if it's nine digits, you cannot dial. It must be 10 digits
Malgorzata: So, it's programmed?
Sanne: It is programmed, but it's not a dialer because you're not allowed to use a dialer. They still have to punch in all the numbers manually. The downside is that SIP telephony has no global standards. That means that's if I dial a number via SIP and I dial, for example, from Rotterdam to Egypt, it might go over 20 hubs before I reach the respondent. Each of those hubs/providers might have a different protocol on how to handle the data and what kind of tone interaction they communicate with. That gives a lot of challenges on the dialer side because it's really important for your research that you know if you dial a number what the result is. Is it a working number? Is it an engaged number?
Where it becomes really interesting is that if I dial a respondent today and make an appointment to call back tomorrow, what do you do if you call back the number tomorrow and it says, "This number does not exist"?
Malgorzata: Okay, so what do you do then?
Sanne: Then we basically give it another try at some point and then hope that we get connected again, but there is not much you can do about it at this point.
Malgorzata: Are there any limitations on, like in the UK, how many not answered calls are allowed?
Sanne: In the UK, if you look on a dialer level, you have what is called an abandon rate. This applies when using predictive dialing, which is a method of dialing where you dial lots of phone numbers in one go. If I dial 100 numbers, the question is which percentage of those 100 calls are allowed to be connected to a respondent without an interviewer being available to engage with the person.
Malgorzata: Yes, the calls are waiting for an interviewer.
Sanne: The UK is very strict, so we use the UK settings (UK regulations) as a global standard. In the US, that particular item is not as much an issue. Having said that, if you go too aggressive with your abandoned rate, you'll get a lot of negative scores and the people will start complaining. That's not what you want. I think if you look at the US, the big challenge there is not as much TCPA because everybody deals with the same issues, but it's more the risk of your calls being flagged as spam. So, if I have a mobile phone and I have an app which says flag spam calls, then I will not pick up.
Malgorzata: And people use that? I didn't even know that you can have an app like that.
Sanne: It will come to Europe at some point. I think you can have it on two levels. On the provider level, so T-Mobile uses it, for example, and they get complaints about a number from GDCC and then mark that as spam across their entire network. So as a result of that, on the T-Mobile level, the calls will not be connected. And you can have it on the respondent level where a person has an app on their phone, which says this call is spam.
Malgorzata: Okay, so that blocks a phone number.
Sanne: Either blocks that number completely or shows it to the person as a SPAM call, and then they will not pick up.
Malgorzata: Based on my personal experience, I would not feel the need for such an app, as a consumer, but I guess that's one of the big differences between Europe and the US on that topic.
Sanne: It's very different in Europe, although we see it in the UK now as well. What you see is technology trends in the US will start there and then move towards Europe at some point as well.
Malgorzata: You've mentioned you're using Nebu as a CATI platform for quite a while now?
Sanne: For over 20 years now.
... to be continued!
To learn more about how Nebu can help you, please download the brochure via a form on the right➡️
Nebu, a privately owned survey firm, can support you in several areas: Data collection, questionnaire design, fieldwork, sample and quota management, productivity, quality control, process automation, data integration and security. If you wish to get in touch with us for further conversation or setting up a demo please request a call via a button below or by sending an email to info@nebu.com. We will connect you with our experts.