In this blog post we continue the conversation with Sanne Krom (GDCC). In part 2 (of 2), among many topics, we are touching upon productivity and quality control in CATI operations on a global scale.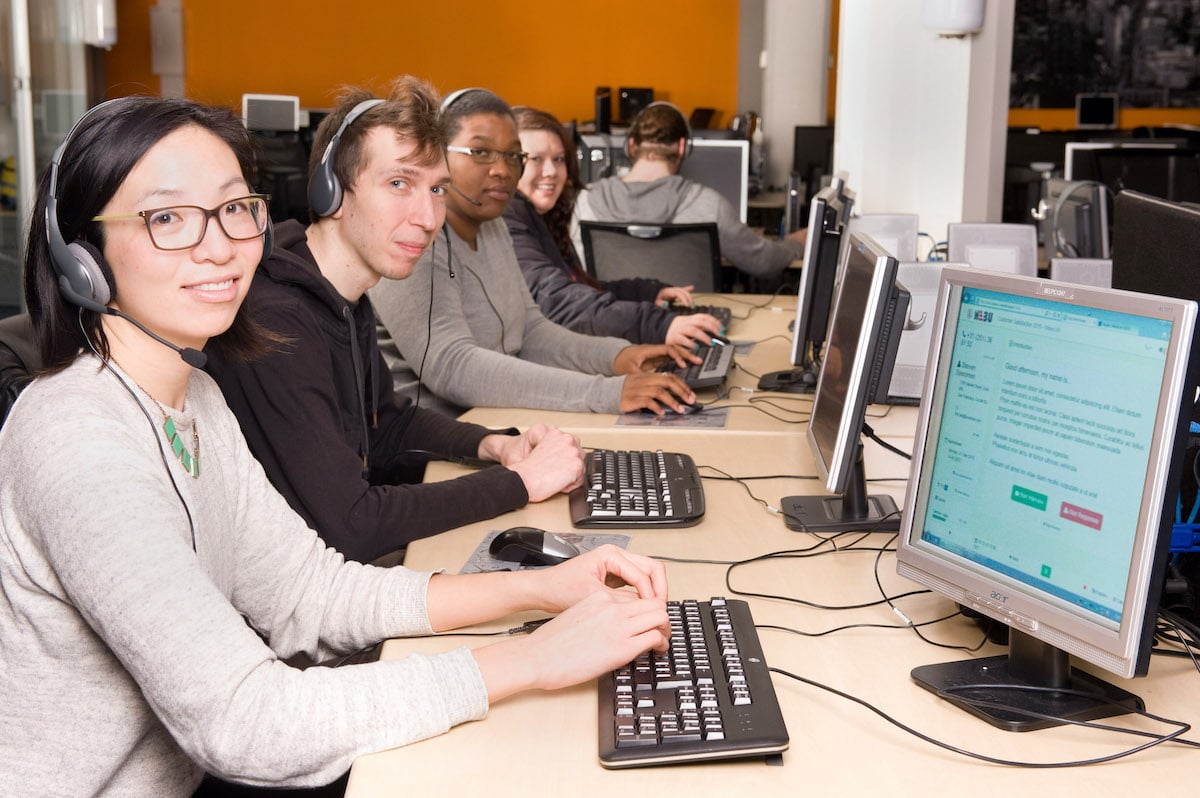 CATI Interviewers at the GDCC office in Rotterdam
Malgorzata Mleczko: You mentioned before that GDCC has worked with Nebu for over 20 years. What is of key importance, in your opinion, when it comes to choosing the CATI system.
Sanne Krom: I think, and this might not sit well with CATI providers, but I think at the end of the day, a lot of CATI platforms are very similar. What an interviewer sees on the screen and how they conduct interviews, it makes almost no difference. It might be a different preferred browser. It might be a slightly different user interface, but they all are very generic. How platforms handle dialing and a dialer, I think they all do that quite well. No surprises here. That is the core of what all the providers do. So, how to pick the right CATI provider? What makes a difference between CATI providers? If you only focus on telephonic interviews, it is what you can bolt onto your CATI platform, something that benefits a call center. In the case of GDCC and my opinion, the crucial aspects are planning and quality control. It is all about how I plan for interviewers to keep high efficiency and effectiveness. Can I listen-in to interviews with my quality control department? How do I store the recordings, reports and how do I flag all necessary information into a system? That's what Nebu is really good at because it offers all of those components.
I think the most significant difference with Nebu versus other CATI platforms is what you get back reporting wise. In a call center, you have different departments that are interested in various aspects of the data collection process. The operations department, for example, wants to look at strike rates, monthly interviews per hour on the interviewer level, refusal rate, but also attendance rates. If you store that in your CATI platform, which is what Nebu does, you can also report on it. If to look from the commercial side, I want to see our GDCC environment across all the call centers globally. For instance, if I have a project in Italy, and I run it from London, Rotterdam, Amsterdam and Kosovo, I want my Ops Director to be able and decide how to plan it most optimally and to see how each call center performs.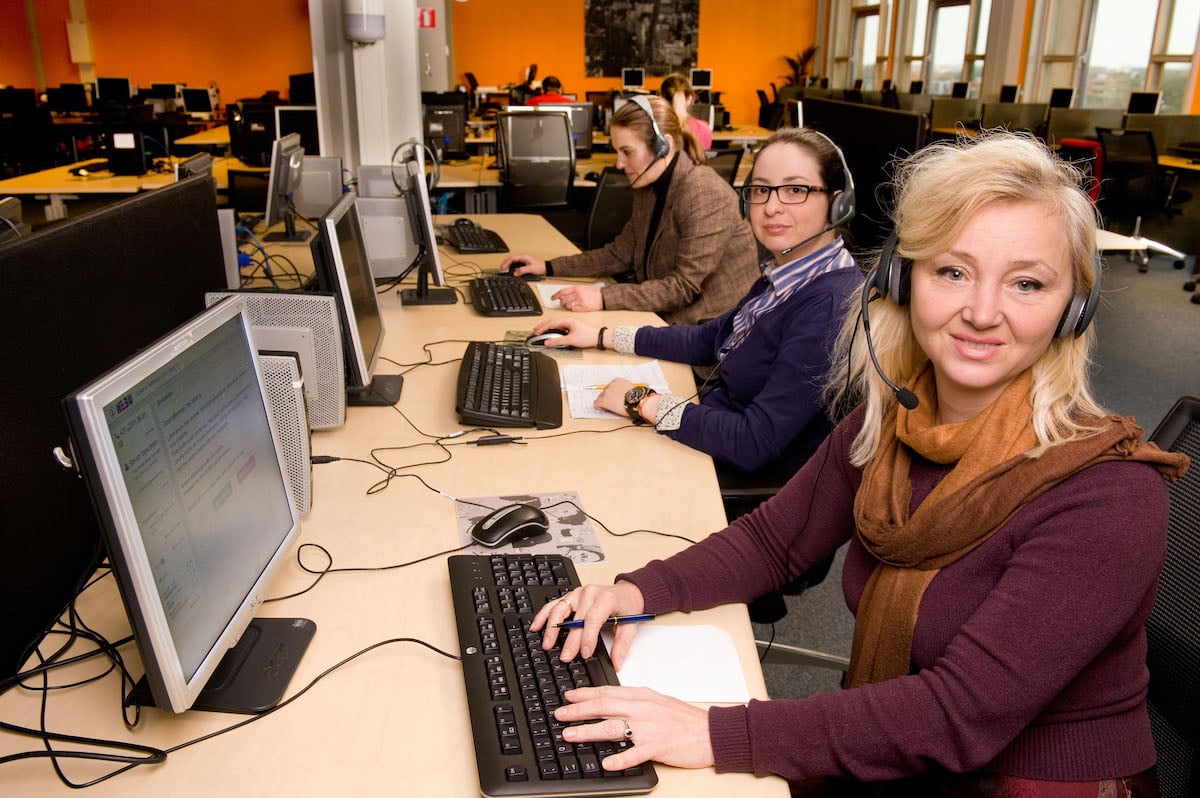 CATI Interviewers at the GDCC office in Rotterdam
Malgorzata: On that particular single project.
Sanne: Yes, per project and in that particular language. This is what we need, and it is something you can get out of Nebu via Nebu Data Hub.
Malgorzata: Can you tell me a bit more about your Nebu setup? As far as I know, you have created a custom data flow to exactly match your needs. How does it work? Was it difficult?
Sanne: No, not at all. It works fairly simple. The Data Hub is a repository provided by Nebu, which is seamlessly connected with Nebu Dub InterViewer, and stores all the interviewer and survey data. At the backend, you can use Nebu's reporting tool to access the Data Hub, or you can use another platform, which in our case is Zoho analytics. So, what we did is created scripts that run every night. In an automated process, the Data Hub transfers tables with relevant information to Zoho reports. That means that at any time, we can take a look and see how a call center performs on a country level or at the site level. It is possible to instantly compare how one call center is doing against other call centers who work on the same project. I can see not only the performance of the interviewers but also, for example, quality ratings over the last month from my Amsterdam call center versus my Rotterdam call center. That is powerful and useful.
Malgorzata: I must admit, I'm a little surprised to hear that it happens that you run the same project, in like this Italian one you mentioned before, from different locations that are spread across continents.
Sanne: That ties back to our business model. We have lots of call centers with many interviewers speaking lots of languages, but at the end of the day, we see them all as one big call center. Which means if we need to do a large project in Italy, my planning department needs to know where we have the best Italian interviewers for this project? If that means that five of them are in London, ten in Rotterdam, and three in Kosovo, then those are the eighteen interviewers who will work on the project.
Malgorzata: That sounds like a huge task to organize/plan?
Sanne: Planning is really complex.
Malgorzata: Do you do all of your planning in Nebu?
Sanne: Yes, we use the Nebu Planning Tool, which is really good. Planning, in general, is a very complicated task, primarily if you work in different cultures, countries and continents. We find the Nebu system very useful. We've built a lot of reports on Nebu Data Hub for planning as well, which present local and global levels, and are adapted to the needs of various roles in the company. They are very useful, of course.
Malgorzata: Just recently, there have been a few moves in the industry. Askia being bought by Ipsos and also Dapresy getting together with Confirmit. Seeing those changes and many other more organic notions, how do you think, the market space will change?
Sanne: The market itself will not change, but there will be more moves to come, of course.
Malgorzata: What do you suspect the result will be?
Sanne: There will be fewer players in the market, but they will become more prominent. The bigger players will aggregate to add value and other products to strengthen the offering.
Malgorzata: What are, in your opinion, the biggest challenges in the market*?
*interview was conducted before the coronavirus outbreak
Sanne: I would say that it is finding qualified interviewers who are willing to work at a relatively low wage, both in the US and Europe. We live in economic up-time. Economies are running well, which means that there are a lot of jobs available. At the end of the day, interviewing in a call center is not a highly paid job.
The other one is the demands of various regulations. You have GDPR, which kicked into Europe, and creates a lot of extra administrative hours, and also some extra time of the staff. It's not necessarily a bad thing, but it is a challenge. In the US, you have the California Privacy Law, which went into effect and is much like GDPR. It puts a lot of focus on PII, personally identifiable information. The focus is on setting boundaries on what a company is allowed to know about a person, and to what degree they are allowed to connect various databases to build a bigger picture of who a person is.
Malgorzata: You mentioned that the US market it's somewhat traditional, but on the other hand, we have all the Alexas of this world and other technology-driven secondary data collection sources.
Sanne: Yes, a lot of new tech firms moving into the research space. The traditional market research space is changing rapidly.
Malgorzata: Is it something that you think might also affect you?
Sanne: We will stick with telephonic data collection. We decided a long time ago to take the last man standing approach. As the CATI pie is getting smaller, it allows us to grab a much bigger piece of that pie because we're good at what we do. We are a well-established company. We have global coverage and because of the movements in the market, we have less and less competition.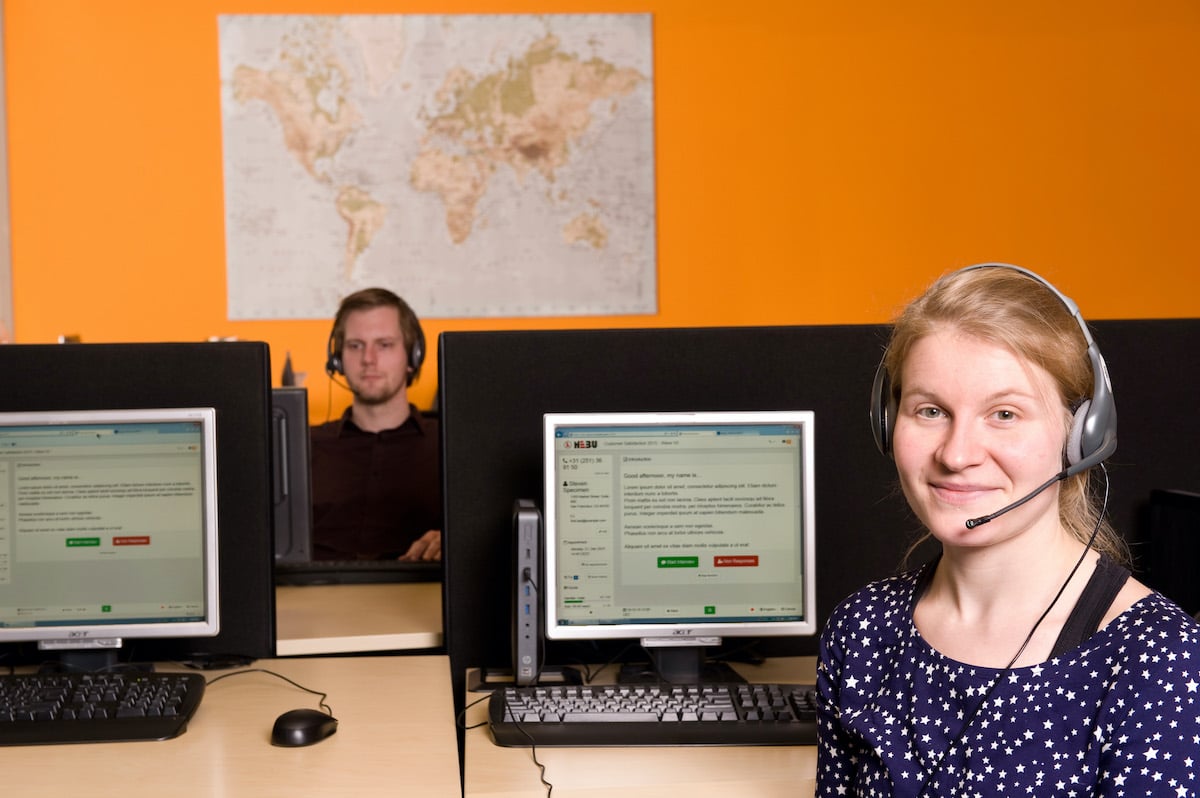 CATI Interviewers at the GDCC office in Rotterdam
Malgorzata: You maintain high standards regarding quality control. How much emphasis do you place on that aspect in your business? What is the primary reason? Is it because of regulations, or clients' demands, or because you want to be sure that you're delivering the best possible quality data in the market?
Sanne: It's not because of regulations. Quality controls measures/monitors whether an interviewer does what they're supposed to do. In market research that means for example following the script to the letter, probe when needed and overall conduct a good interview. Quality control is , what sets us apart from our peer group. We can prove how much quality control we do. We record all the interviews if the respondent gives consent, so we can listen back to recordings if there's a question about a particular interview. Across the board, our benchmark or threshold is around 10% of the interviews which need to be monitored across projects and interviewers.
Malgorzata: This is something that helps with acquiring new clients?
Sanne: It helps to acquire new clients and more importantly, it helps with keeping existing clients. And that is very important, as finding new clients is even more challenging. What I do see happening in the market is price pressure because if you can buy something for 20% less next door, it's very tempting.
Malgorzata: Yes, it's tempting, but if you deliver data that doesn't add any real value.
Sanne: If it doesn't have any value, yes, but you could make the same arguments for an online panel to a degree, and they're still there. And they are even growing.
Malgorzata: I'd like to ask about the recent rebranding of GDCC. The company has changed its corporate identity. I wonder why, how, and what was the reception?
Sanne: Rebranding is a strong word. GDCC's presence at some trade shows and exhibitions was the main driver. Our stand was really nice but quite old-fashioned and a bit outdated and rusty.
We started by redesigning the marketing materials. So, we had somebody redesign the logo. The concept of having our call centers marked on a world map, as dots connected, is not rocket science, but it helps us to tell the story well. We had another person designing the stand for last year's Research and Results, which looked really good and was very well received.
Malgorzata: Was the redesign also useful in launching GDCC on the US market?
Sanne: Not really, in the US we took over two existing call centers, basically with the current clients who committed to stay with the new entity, GDCC USA, for a certain period of time. Will a new branding make a considerable difference in the US? No, I think the US is a fairly old-fashioned market, in the sense that there is still a lot of telephonic interviewing being done.
Currently, in the US, the call centers are partly using their branding. They use the new branding for interviewer recruitment but that goes in line with our global recruitment websites to work at GDCC.com. If somebody expresses interest to work as an interviewer, they are directed to the relevant recruitment site.
Malgorzata: Thank you so much for your time!
Sanne: Thanks.
(To read the first part of the InterView with Sanne Krom (GDCC) click here)
To learn more about how Nebu can help you, please download the brochure via a form on the right➡️
Nebu, a privately owned survey firm, can support you in several areas: Data collection, questionnaire design, fieldwork, sample and quota management, productivity, quality control, process automation, data integration and security. If you wish to get in touch with us for further conversation or setting up a demo please request a call via a button below or by sending an email to info@nebu.com. We will connect you with our experts.