When it comes to optimizing fieldwork, probably half the promises you were made before were never kept. Within Nebu, as a supplier of software for quantitative marketing research, we only trust data! As a marketing researcher, I think you do too! So, instead of making big promises regarding lowering your costs, I'd like to talk numbers and present a data-driven investigation into how adding Nebu's Dialer as a Service to your data collection tool, Dub InterViewer, influences work efficiency and finances at your call center.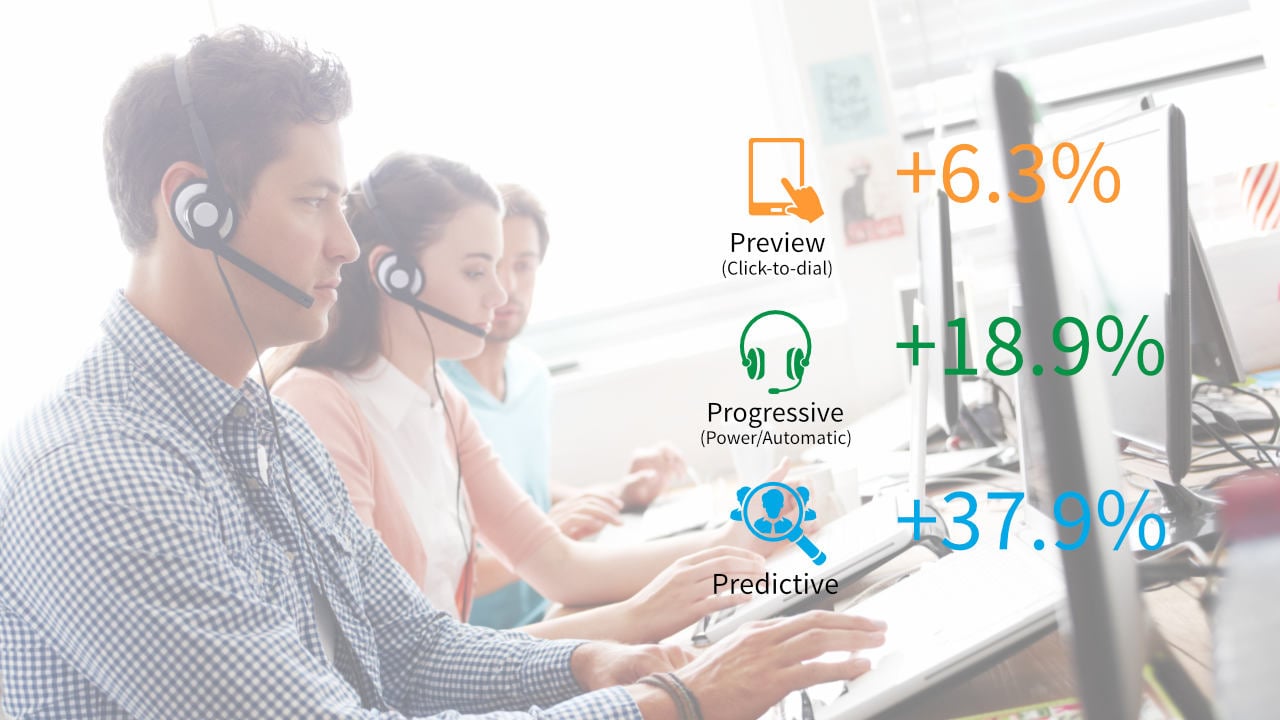 As a base for our investigation, we have taken a CATI project of 3,000 completes, where an average interview lasts around 10 minutes. To deliver such a project, interviewers need around 500 hours of actual talk-time. Our goal is to examine what kind of impact on the actual project duration and fieldwork costs the usage of various dialing modes has.




When agents dial manually, their work efficiency is around 20%, even when the quality of your sample is high. Interviewers' efficiency is an outcome of several variables. The agents might be the best specialist in their field, but some factors are largely beyond their control.
The main factor being "getting someone on the line" (connection rate). Interviewers make mistakes when dialing manually. Often they face non-responses, e.g., a busy line, no-answer or an automatic answer machine, and have to code them manually.

When a connection is established, the interviewer can show his skills by convincing the callee to become a respondent. This is the area you want your interviewers to spend their time and excel, not on getting people on the line. The good news is a fieldwork dialer can help with this. Let's see how this looks in details.

As agents' efficiency on manual dialing is 20%, to achieve 500 hours of actual talk time, the total project execution time takes approximately 2,500 hours. If you assign 28 interviewers to complete that project, it takes roughly 2.23 weeks, assuming a 40-hour workweek. If an hourly interviewer rate is €15, the project's total interviewing costs would be €37,500. This is our point of reference to examine efficiency gains based on different dialing modes.

The same project conducted with a dialer in Preview Mode is going to provide an increase in savings of a little over 6%. The Preview Mode, also known as a "Click-to-dial," eases interviewers from typing a number and thus saves time and removes the misdialing.
An increase in agent efficiency in the preview mode is of 2%, i.e. from 20% to 22% (please note that depending on sample quality and a project type that number might change), to deliver 3,000 completes (a.k.a. 500 hours of the effective talk-time) 28 interviewers need 228 hours less on the total project time in comparison to manual dialing. This translates into saving almost € 3,500 in total interviewing costs. After adding costs of Nebu Dialer as a Service (as per the number of lines and the dialing hours) you save on this particular project around € 2,400.
To get an instant access to the full calculation submit the form on the right (or at the bottom in the mobile view) ➡️➡️➡️
Nebu Dialer as a Service offers out-of-the-box a few dialing modes. Along with the preview mode mentioned above, you can use Progressive (also known as Power or Automatic) and Predictive Dialing. Efficiency gains on this particular project are even higher in case of using those modes. The savings increase by over 18 and 37 percents respectively.

Progressive (a.k.a Power) Dialing ensures good performance. How it works is once an agent is ready for a call a number is dialed automatically. Interviewers save much time in between calls, and also some call results are logged automatically. In our calculation, we use an agent efficiency increase of 5%, i.e. from 20% to 25%. If the project would be conducted using this particular mode, delivering the required results would take 500 hours less (in comparison to the total project duration using manual dialing.) This translates into € 6,440 of savings on all costs, already after adding Dialer s a Service costs!

The most efficient mode is Predictive Dialing. In this mode, calls are launched at a rate such, that the system aims to connect an interviewer, as soon as they complete the previous call, to an available respondent. Predictive dialing is an excellent choice for shorter and simpler surveys, with a small variation in talk time, and conducted on more significant sample size. That mode requires a higher number of available telephone lines yet even after including additional requirements (and its costs) it provides the most efficiency gains. Agents efficiency using predictive dialing increases with 10%, i.e. from 20% to 30% and the 50% increased number of lines involved in the project, it would be finished in 1.5 weeks (in comparison to 2.23 weeks in manual dialing), providing almost 840 hours saved in terms of total project time. The efficiency gained by predictive dialing is equal to net savings (meaning without Nebu's dialer costs) of € 12,500 in total interviewing costs. After including the costs of Nebu Dialer as a Service (covering both the increased number of lines and the dialer hours) choosing for progressive dialing gives the total saving of € 11,370 (37.9% in comparison to manual dialing).
To get an instant access to the full calculation submit the form on the right (or at the bottom in the mobile view) ➡️➡️➡️
The PDF will help you grasp all benefits mentioned in the article easily, as all modes and variables are compared in a simple manner, one next to each other.
In addition to the benefits mentioned above, I'd like to write about two additional efficiency gains briefly. We have not yet precisely quantified them but have been mentioned as significant by clients who had adopted Nebu's fieldwork dialer.
The first one is related to the fact that Nebu Dialer as a Service is a solution that doesn't require any initial investments. To start working with our dialer, you need only a headset, ability to run a web browser and access to the Internet. You don't even have to have your call center run on PCs. With Dialer as a Service, you can use various devices to collect data and make calls, like a tablet or a Raspberry Pi. This can be an important aspect, especially if you're setting up a call center, or solely rely on home-workers, or don't have much budget for hardware. For example, a non-profit organization like 100WEEKS that we have a pleasure to cooperate with and support by offering the tools without any fees, have set up a pop-up tablet-based call center and conducts CATI interviews that way.
The other efficiency gain factor is due to Nebu Dialer as a Service is seamlessly integrated with Nebu Dub InterViewer, your data collection solution. Introducing new software usually causes some distress in a company. In case of you adopting Nebu's solution, this goes away. You don't have to take under consideration any cost of the training. CATI managers use the same tool for setting up automated dialing rules, and interviewers use the same interface for conducting interviews.
Last, but not least, most of our customers tell us that they also benefit from a reduction in telephony cost. An advantage gained by bundling the usage of all our Dialer as a Service customers and achieving economies of scale.
To get an instant access to the full calculation, please submit the form on the right (or at the bottom in the mobile view) ➡️➡️➡️
Want to learn even more? Let us know ⤵️