Nebu solutions are created to accommodate remote working. In its origins, the aim has been to support the creation of a virtual call center for clients working internationally, with offices spread even between continents. In the time of Covid-19, our solutions will provide a smooth workflow and business continuity of a call center with employees working from the safety of their own houses. The tools are fully covering the needs of various roles in the organization. All employees, from CATI interviewers and supervisors, through scripters, data processing teams, can work from home with full capacity.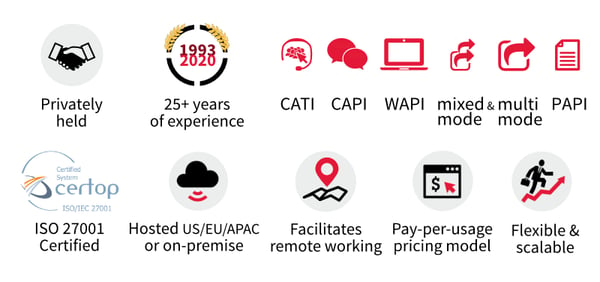 If you are looking to move your fieldwork processes to remote working, Nebu will undoubtedly be of help to you. There are two key pieces of information I would like you to be aware of. First of all, in principle, it makes no difference whether we set up a workstation for an interviewer sitting in a call center or at home (also in case of having an on-premise Nebu system). Secondly, since all tools are entirely web-based, any employee can continue their work provided they have access to a web browser and internet. Now, let's take a look in more detail how exactly Nebu can help you keep up efficient fieldwork, high productivity, quality control, and data processing of your completely remote CATI call center.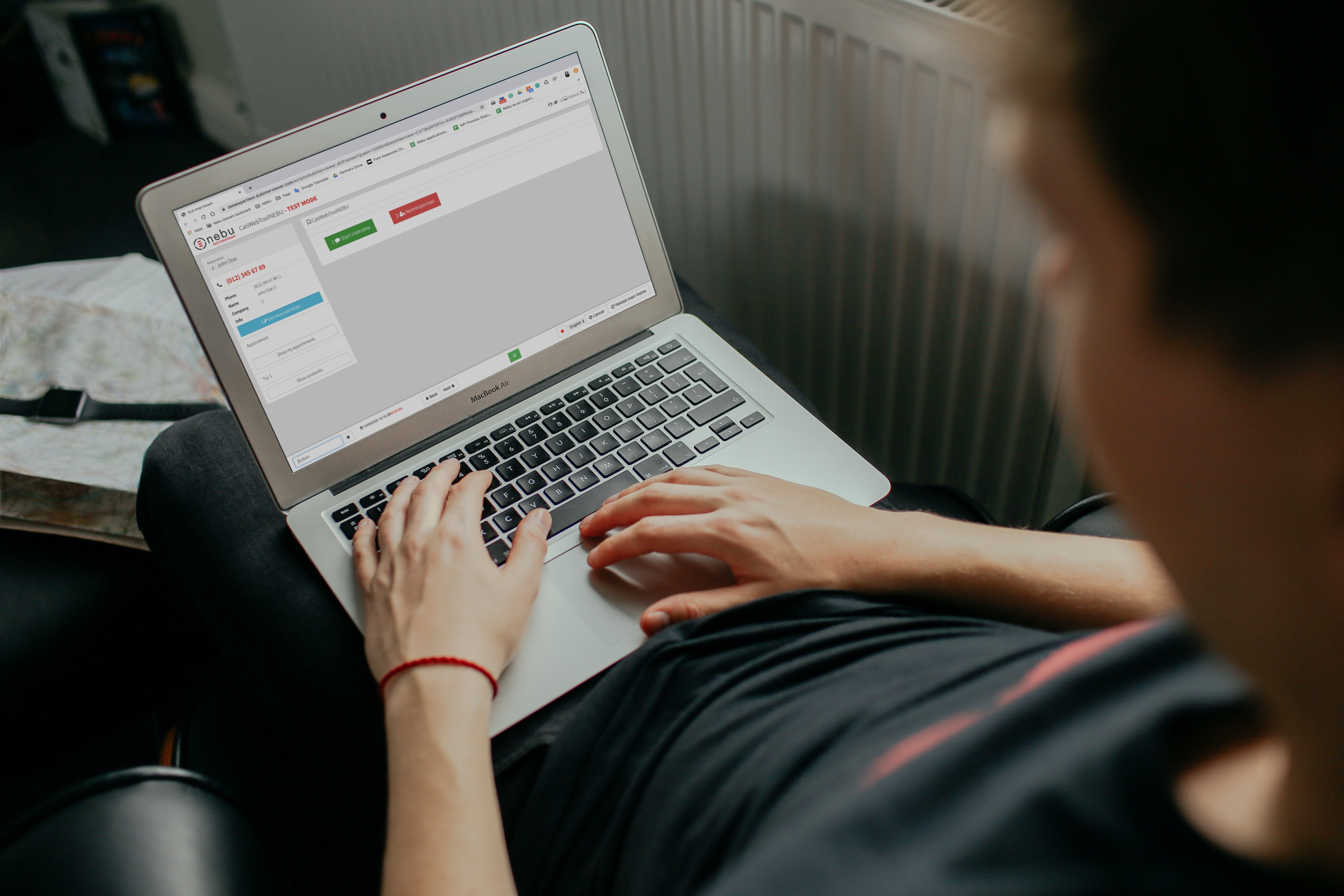 For those who do not know Nebu well yet, we're providing software solutions for the fieldwork and insights industry for more than 25 years. We are a privately held firm and very much client-oriented, implementing agile development to work in favor of your and your clients' needs.
Our roots are grounded in multimode data collection; and over the years the offering grew expanding to data management and processing, panel management and reporting and visualizing insights. Today we can support you in the entire market research process flow, from Collect, and Manage to Utilize your data within one secure (we are ISO 27001 certified) suite.

The dialer side of things
It makes no difference to set up a workstation for an interviewer to work in an office, at home, or at any other location for that matter.
Nebu's dialer, powered by Sytel, and seamlessly connected with our data collection tools does not require any technical knowledge. No special hardware or system purchases are necessary to run our fieldwork dialer. All you need is the internet and a headset. We have clients running it on various devices ranging from PC, Mac, tablets. Nebu provides you everything required to run a dialer, including the telecom & carrier services.
The modern VOIP world is a challenging environment, the carriers have more strict rules, phone numbers are being locked or marked as SPAM more often. To help you overcome those challenges faster, ensuring high connection rates and thus agents' productivity we present you with a multi-carrier dialer that automatically switches the path to offer you the most time and cost-efficient experience.
Nebu's dialer offers you flexibility in regards to the number of lines and the usage of the system: you pay as you use hours. Out-of-the-box you get access to all dialing modes from preview (click-to-call), progressive (power/automatic) to predictive* that can be set at project level. If you are US-based, please note we also provide a TCPA compliant solution.

The productivity side of things
When it comes to productivity Nebu offers efficiency gains for several roles in the insights organizations. The entire Nebu Data Suite is ready to be used remotely. All our software solutions are accessible online, seamlessly connected to ensure a secure and stable data flow at any time, from any place and for any purpose.
Our core data collection tool, Nebu Dub InterViewer, supports all interviewing modes (CATI, WAPI, mobile, CAPI, Data entry, Hybrid modes). All of these modes of data collection are available via a single user interface, a single scripting environment, collecting data to a single database, independent of the mode of survey data collection. That is one of the first of several significant efficiency gains in the productivity area, for scripters, interviewers and data teams.
Nebu Dub InterViewer also provides its users with powerful support for multilingual research projects. The tool currently provides multilingual questionnaire support for 33 languages with a possibility to be extended based on a specific request. It supports specific character sets (like Chinese, Arabic, etc.). International projects can be managed centrally or locally, and interviewing call times are automatically done in the respondents' time zone (you can read more about how one of our clients is conducting CATI operations on a global scale in this interview.)
Especially in a time of (more) remote working, one of the most desired functionalities is access to various out-of-the-box productivity reports that are available to managers at any time. Within a glance of an eye, a supervisor can update their knowledge regarding the current state of fieldwork and take the necessary steps to ensure high work efficiency. The tool is collecting detailed information about the total performance of a questionnaire, daily productivity, and particular interviewer productivity. These reports summarise information on time spent working (including the actual interviewing, and pauses), a number of tries, completes, refusals, screen outs, and a few other out-of-the-box calculations.
The Planning Module, an add-on to our data collection tool offers interviewers an easy way to (remotely, at any time and on any PC/mobile device) set and manage their work availability preferences and check already planned shifts and that data is being directly registered in the system. Supervisors do not have to track all of the messages from interviewers and log their work preferences manually (an important efficiency factor for bigger call centers). The module allows managers to assign interviewers to appropriate shifts (also prior to starting, or during fieldwork), projects and specific types of tasks related to a project (cleaning, coding, copying data-entry, interviewing). And an interviewer sees in the login in screen, which projects they have been assigned to, with respect to the current shift schedule and a type of task they have been assigned to without even contacting a supervisor.
Interviewers themselves are offered comprehensive caller info screens and interface to manage the interviewing process, log-in, non-responses, register, correct and re-code answers, edit respondent's data, make an appointment, track quota cells and much more.

The quality assurance and control side of things
From many aspects Nebu Data Suite supports you in Q&A processes and the compliance with local regulations as well as respondents' time zones and appointments preferences. One of the most attractive features, especially now when interviewers are working remotely, is the ability to connect to their screen (with their consent) when logging in to their virtual workstation). It is possible to listen in to an interview, or to coach and support an interviewer while they are on a call, to offer tips or guide them, even verbally during the interview. Using our data collection tool in combination with our Sytel-powered dialer grants you all the flexibility to make recordings per question or per interview. All these above mentioned functionalities combined provide a smooth workflow, and will ensure your business continuity and highest quality of service, even in a virtual call center.
Together with Nebu's technology and professional services partner Data Expert, we have also released an add-on tool that helps to bring additional quality aspects into CATI interviewing. In these times, when it is impossible to physically meet people face to face to ask them questions (CAPI) one needs to be more creative. The add-on, we call the CATI-WEB tool, allows interviewers to present visual information to the respondent during a CATI Interview. Interviewers can, in real-time, send respondents an invitation, and share their screen. That not only enables you to present pictures, video, whole websites to interviewees asking their opinions but also it allows a respondent to see, also in real-time, what are the answers that an interviewer is putting in on their behalf. Even though this solution will not be able to fully replace the intimacy and deeper connection possible in a real-live encounter it enriches CATI mode with a whole new level of quality and trust in the interviewing process. If you wish to see this new CATI-web tool in action watch the webinar recording.
The above mentioned are only a few key aspects of many more ways how the Nebu Data Suite can support you and your teams in remote working. Please do not hesitate to reach out to us, especially if you need help in setting up the optimum configuration during the current crisis in an effort to mitigate your and your employee's risk while ensuring business continuity.
To learn more about how Nebu can help you, please download this brochure or request a call with our specialist by submitting this short form on the right, so we can guide you further.