In a previous blog post, we took a quick look back at the early days of the CATI research methodology, and discussed how and why it is making a comeback in market research after being displaced for a time by online approaches. As we discussed in that post, CATI – Computer Assisted Telephone Interviewing – represents one of the first attempts to merge technology with the market research interview process.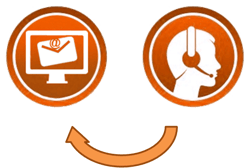 A Quick Review
As you may recall, in a CATI study the questionnaire, skip logic, and interviewer instructions are all pre-programmed using market research-specific software, into a computer workstation or computer network. Telephone interview is conducted in "real-time", with the interviewer reading each question as it appears on the computer monitor; responses are input directly into the questionnaire by the interviewer as the survey progresses. Because skip logic is pre-programmed, the correct questions are always asked, according to the specific responses provided by the participant.
So why the transition to an online research methodology?
As online research came into its own, both research vendors and clients realized that the newer methodology offered many advantages over phone interviews to both researchers and respondents:
Quicker, better-targeted "bulk mail" recruiting via email blasts;
Cost-effective and efficient;
Respondents may complete online surveys – using their own computers, tablets, or smart phones - at any time of the day or night that's convenient for them;
Quality control is outstanding, because all skip logic is pre-programmed; and,
Respondents are able to view and react to visual elements of print ads or evaluate prospective logos.
So as other, more sophisticated data collection and tabulation methods were developed, CATI was put on a "back burner" in favor of these newer technologies.
So why is it beginning to make a comeback now?
Desirability of respondent/researcher interaction
CATI is resurfacing, and its reappearance is absolutely not a matter of nostalgia! Instead, innovative, smart research industry veterans began to realize that online research – for all of its advantages – has distinct drawbacks, as well.
Interaction between the research team and the research participant, which had been perceived as a disadvantageous element for quite a few years, was, for the first time, recognized as offering inherent benefits as well:
Researchers realized that including a mechanism that would allow the respondent to ask questions would be useful.
And they realized that allowing for ease of respondent/researcher interaction would also enable more in-depth "digging" into specific areas or issues by the research team. Not incidentally, a knowledgeable researcher will be able to encourage the respondent to offer valuable insights that provide a "deeper, more qualitative dive" into his or her more black and white responses.
Increased impact of globalization
And then there's the issue of our increasingly-global society. Target audiences can no longer be assumed to speak the same language or even to live on the same continent. Clients are interested in very specific demographic and ethnographic details about the members of the various subgroups that comprise their target market. Thus, the world has become both smaller and larger at the same time.
One result of increased globalization is that some degree of survey customization is frequently required. This allows the specific questions, idioms, and cultural touchstones used within each market surveyed to be authentic and relatable to the respondents falling within that group. It is much more difficult to manipulate programming for an online survey than it is to redirect a respondent to speak with a "live" individual who is able to speak their language and tailor the interview to their specific responses.
The need for agility and flexibility
Whether the research is being conducted in a single country, or in many countries across the globe, there is a need for a degree of agility within virtually every element of the study. Market research requires an increased nimbleness and flexibility - within the survey, within the research team, within the study deliverables – that has never before existed.
Those innovative, smart research industry veterans we mentioned previously became increasingly aware of those issues. They realized that tethering the respondent to a computer to complete a static questionnaire – and having that exercise comprise the sum total of the "research effort" – was no longer sufficient or practical.
Clients' information needs were, for all intents and purposes, no longer being met.
What was needed, these researchers realized, was the ability to allow the respondent to complete various types of tasks that were not necessarily all conducive to being completed via an online-only methodology.
For example, perhaps the respondent would complete a "traditional" five- or ten-minute online survey, then dial a number to connect them with a researcher who – in their native language – would ask them follow-up questions by telephone, based upon their online responses. Then they might be jettisoned off to a third "portal" to watch a video and respond to that. These types of methodologic acrobatics required technology beyond the online-only approach that was so popular among research suppliers and clients.
Editor's Note: This post was originally published on Jun 4, 2015 and has been updated for accuracy and comprehensiveness.